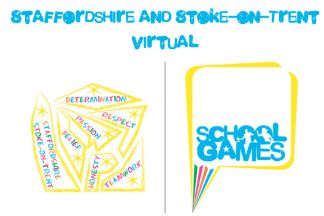 At Birches, we are very proud to have the Gold School Games Mark. This is awarded through South Staffordshire School Games. We often take part in challenges/ competitions throughout the year and due to the current situation, they have now become virtual! Stay home, stay active!
South Staffordshire School Games have shared some 'Play Challenges' with us and we would love you to take part to represent our school. Each challenge is a series of 5 activities. You may choose to take part in an individual challenge or perhaps all 5! All participants will receive a participation certificate.
Challenge 1: Burpees – How many burpees can you complete in 60 seconds?
Challenge 2: Figure of 8 – How many times can you pass a ball through both legs in 60 seconds?
Challenge 3: Super Slalom Run – How many slalom runs can you complete in 60 seconds?
Challenge 4: Squat Jumps – How many squat jumps can you perform in 60 seconds?
Challenge 5: Tuck In, Tuck Out – How many times can you tuck your legs up to your chest and then extend them out in 60 seconds?
For more information on the challenges and to participate, please fill in the following form by Friday 25th June: https://forms.gle/TVE5UC7Buum51EAo9. Results will be shared with participating schools the following Monday.
I would love to hear if you have taken part (shulme@birches.staffs.sch.uk).
Watch out for the next competition – Go Birches! Good luck!