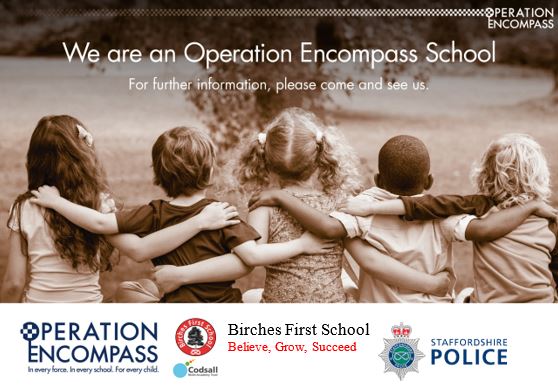 Birches First School is committed to protect and safeguard the welfare of all of the children in its care and expects all staff and volunteers to share this commitment. As a school we educate children about managing risks and improving their resilience through the curriculum in a variety of ways.
The school has a statutory duty to safeguard and promote the welfare of children and is actively involved in protecting children by early identification of children who may be vulnerable or at risk of harm. Through regular training and support our staff are well equipped to deal with any safeguarding or child protection issues. When employing new staff we not only apply all the relevant stringent checks, we also strive to ensure that new staff share our ethos and values to keep our children safe and happy.
Birches First School is a safe environment for children and is committed to managing any situation where there are child welfare concerns. This means that we have a Safeguarding Policy in place, which is available on our school website.
Our designated lead for safeguarding is:
Miss S Varricchione (Headteacher) 
Our deputy designated leads for safeguarding are:
Miss S Hulme (Assistant Headteacher / Year 2 Teacher) and
Mrs E Buckley (Reception Teacher)
Birches Club designated Safeguarding lead is:
Mrs C Banks (Birches Club Manager)
If you have a concern about the safety of a child please contact Staffordshire Children's Advice and Support on 0300 111 8007.
https://www.staffordshire.gov.uk/Care-for-children-and-families/Childprotection/First-Response.aspx
Click here to view our full Safeguarding Policy 2023-2024 
Click here to view our Child on Child Abuse Policy 2023
Click here to view the Department for Education document 'Keeping Children Safe in Education for Schools and Colleges 2023'.
Click here to view our PREVENT Policy 2023
Click below or on the images to the right to view our;
          Designated & Deputy Safeguarding Lead (DSLs) poster
          Staff safeguarding procedure poster